Why Every Law Firm Needs a Website?
Why Every Law Firm Needs a Website?
Everything from small to giant has shifted in the digital world. If you run a small law firm or manage a full-grown business, having a website for your law firms is very important.  The current century is full of hot competition as many people are starting their law firms.
 If you want to leave an impact in law firms, you get to be unique in the services you provide. If other law firms focus on local and physical interactions, you can be unique by providing online services through a website. Whether you are a discrimination attorney or a personal injury law attorney, the website provides you with a medium to connect with your clients.
There is no doubt that law firms demand face-to-face customers. But you can find your customers through your website then use different calling technologies to meet them. In this write-up, we will be discussing websites and why your law firm needs a website.
Get exposure through a website
All the best law firms have their online presence to get the attention of clients. The interest of customers decides the future of any firm. When you have a website for your law firm, there is the chance of getting more exposure through your online medium. More exposure means more clients and more profit. 
Suppose you don't own a website for your law firm; you will get a few people's attention. But if you launch your website, you will get the attention of thousands of people. Then a few of them will end up buying your services. For instance, Vermont is a state having many law firms. It is critical to note that all Vermont attorneys have their law-related websites to get better exposure.
Educate people about their rights
People are unaware of their rights. Many people get scammed due to a lack of knowledge about law and rights. Websites are the best way to promote understanding so that no one-stop fighting for his rights. On the law website, you can convey knowledge to others. Tell them the solution to their problem. 
Motivate them to fight rather than giving up and compromising on their rights. If you convince them, you will get many clients. Help those people to get their rights. In this way, you and your client will get the benefits. For example, people are not fully aware of discrimination attorneys; you can write a blog on discrimination attorneys and their services. In this way, you will guide them to get their missing rights.
A website increases your credibility
People see your ads running on different platforms. After watching ads, they approach you if they need a lawyer. So if you have an online presence, it becomes easier for clients to find you. Suppose someone needs your help. He tries to find you on any search engines and sees you nowhere. The client will think you are not trustworthy. Having a website improves the credibility of your law firm. People start considering you as a brand.
Online presence and 24/7 Support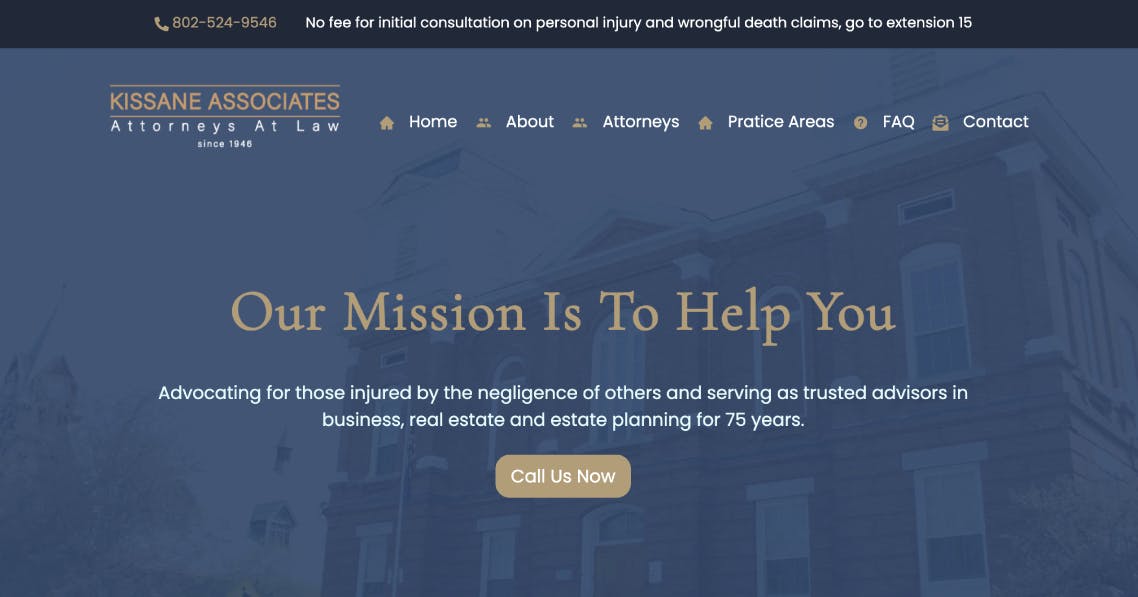 It's a world of competition. Those who compete; survive. It is always important to be ahead of your competitors. Suppose your competitors' law firms work in-office hours, then they will get clients in that period. You can outclass them by Providing  24/7 support. Websites help you to be available for your clients. For example, attorneys in Vermont as successful because they provide 24 hours support through the website.
In this industry, customers demand more information. They will be making law-related decisions through your provided guidelines. You are the best person to provide complete information to your Website visitors. You can impress your website users by helping them. Ultimately, your website visitors will become your potential clients.
Website as a powerful marketing tool
Different studies show that 70% of people find law firms on search engines when they need law-related help from lawyers. So having a website is the best way to do marketing for your website. You can target the audience to provide complete information.
Use your website as a marketing tool to get clients. You can target those people who are injured either emotionally or physically by the horrible act of someone. Tell them about personal injury laws that protect people if someone mistreats them in any way. It helps to enhance your credibility as a law firm or personal injury law attorney.
A website relates you with clients
A person who follows your website considers you as a brand or the best law firm. It becomes easy for them to approach you when they suffer from any inequality and injustice. People who use your website get attached to you. They tend to believe that you are a well-wisher to them. Building relationships with your clients plays a fundamental role in the success of law firms. They can quickly contact you and share their problems. 
Suppose the person got injured or even killed by another person, then the suffering family can claim to be compensated for their loss. The loss can be in the form of injury or death. There are different ways to reimburse the loss. In such a scenario, suffering families consider you to fight for their rights as they are attached to you through the website. 
Website as a source of revenue
Many law firms use their law-related website to earn money. If you have a well-grown website, you show ads on it and make a handsome amount of money through ads. Apart from ads, you can write blog posts on affiliate products related to your niche and generate affiliate revenue.  You can even create law-related courses and sell them. There are many ways to use websites as a source of income. Many brands are out there who can pay you if you review their products. So law firms must have a law-focused website.
Conclusion
There are many benefits of having a website for law firms. People look to get information before going to a law firm, so law firms must have a website. All the best law firms upload information regularly to keep their visitors in touch through the website. A website helps law firms and personal injury law attorneys get more. In this digital world, nobody has time to visit your physical office to get the required information. Website is inevitable if you are a discrimination attorney or personal injury law attorney. A website can also be an excellent source of income for you if you focus on it. So, never compromise on setting up your website.